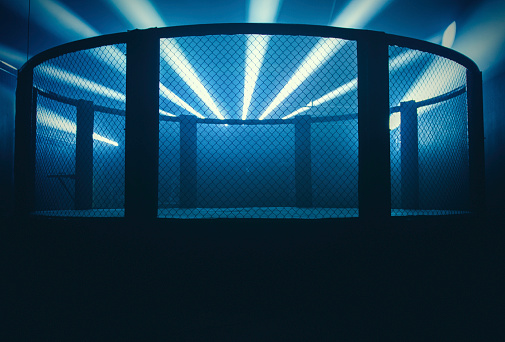 MMA fighters know that winning is a mindset. "I'm not the best. I just believe I can do things other people think are impossible," Anderson Silva. "I look at obstacles as opportunities," Jon Jones. . "I like to think I'm a superhero, but superheroes got to fight their demons too sometimes," Max Holloway. "Belief is a powerful thing," – T.J. Dillashaw. And, of course, "a fight is 10% physical and 90% mental," Georges St-Pierre. You can control your mindset with sports hypnosis for MMA.
Love him or hate him, UFC and Bellator Light Heavyweight Chael Sonnen has carved out a place for himself in MMA history. Unlike many fighters who keep the details of their training to themselves, Sonnen famously shared his secret weapon, sports hypnosis for MMA, during a podcast interview with Joe Rogan back in 2012.
"…I sit down one day, and I'm on Sherdog.com, and I'm looking at my record. I've won every round I have ever fought. I've never been in a tough fight. I've never had stitches, I've never broken anything, I have dominated everybody and I've lost eight fights, and I've lost all of them by submission and I've lost all of them in the second round. And I'm staring at that on the computer and I'm staring at these numbers like a CEO would his spreadsheet. And I'm saying, 'There is something going on here and it's not physical. There is something going on that I can dominate eight minutes of a fight, seven minutes of a fight, nine minutes of a fight and find a way out time after time after time in the same round with the same move.'
Sonnen recognised that he needed to work on his mind. His fitness, his technique, his strength, his aggression were getting him the performance he needed but his mind was holding back the results. He needed to work out what was going on and get it fixed. What did he do? He went and got sports hypnosis for MMA.
"…I hate talking about this because this was a real secret. This was a real turning point for me was when I went in, worked on sports psychology and got hypnotized. I was never the same. I was never the same in practice, my attitude was different. Controlling my diet, being discipline, falling asleep, the way I approached battle, the way I approached the second round. Everything changed, and it changed to the point where, I hate to say what I just said and now it's too late because I felt like it was my secret. I discovered something and I don't want other people to know."
Not only was Sonnen able to use hypnotherapy for his self-imposed second round submission curse, He was able to work on a whole bunch of things that would help his MMA career; focus during training, diet, sleep, fight mindset, to name a few.
"…I finally came clean, it's like being an alcoholic, before you can get help, you have to admit you have a problem. When I finally admitted I got a problem, when I finally said it, when I finally could acknowledge it and look somebody in the eye and tell them this is what's going on, I'm finding a way to lose as opposed to win. I work harder than these guys. I been at this longer, I know how to stop submissions, I'm finding my way into them, I'm finding a way out and that's what's happening. I had to acknowledge that and once I did it, I never lost again. I lost to Paulo which was the controversial one and then I lost to Anderson after dominating him, I've never been beat since…"
Through Hypnotherapy, Sonnen was able to improve his focus, his discipline, and also change the way he subconsciously felt about submissions in the second round. Unknowingly, he'd created self doubt and, according to him, was looking for a way to lose the match. After his sessions, he erased that thinking and replaced it with positive, self-assured, thinking patters that resulted in successes. Mike Tyson and several other boxers had the same results. More about sports hypnosis in boxing here.
You don't need to be a pro athlete to access and use sports hypnosis. You don't need to hit rock bottom before you get help. Contact Reimagine Hypnotherapy and let's discuss how you can tap into the power of your mind to improve your athletic performance.